Aliko & Ambai
Aliko & Ambai is a feature film about two young women facing the challenges of growing up in the beautiful Eastern Highlands of Papua New Guinea. The challenges are significant: tribal conflict, poverty, bullying, domestic violence,and forced marriage. Aliko struggles to complete her education and Ambai searches to escape her abusive home and reunite with her biological father. They navigate the many obstacles in their lives and endeavour to build brighter futures for themselves, supported by the strength of friendship.

Director Biography - Mark Eby, Diane Anton
Mark Eby
has been working as an independent filmmaker and media educator for over 20 years, collaborating with artists, musicians, and local communities in Los Angeles, the Asia-Pacific region, and Africa. His films have focused on the performing arts, indigenous communities, and health and social justice issues and have been screened at numerous film festivals in addition to being broadcast in the United States, Australia and the Pacific. His research has investigated the informal media distribution network in Papua New Guinea (PNG) and practice-led research into media development and capacity building that produced a narrative film by young local filmmakers for their own communities that explored the issue of gender-based violence. These research projects have been framed within the strategies of communication for development and social change and traced the efficacy of entertainment education and media capacity building. His research projects have involved student support and training, both in research methods and media production.
Diane Anton
This is Diane Anton's first experience as a feature film director. She created the storyline for Aliko and served as co-director, casting director, art director, community liaison and had an acting role in front of the camera as Aliko's teacher. Diane has a Bed in Expressive Arts and an Honours degree in Communication and Social Change from the University of Goroka. Diane Anton is the Oxfam in Papua new Guinea Outreach Officer for the Gender Justice Program. Diane has a background in communication for social development specialising in community based GBV prevention.
SMALL ISLAND BIG SONG
Small Island Big Song, an uplifting feature musical documentary. From Taiwan to Aotearoa/New Zealand, from Madagascar to Rapa Nui/Easter Island.
There's a chapter of Earth's history, few know. 5,000 years ago, people of the pacific designed ocean going outrigger canoes and from a beach in Taiwan they crossed the horizons, voyaging the expanse of the Pacific and Indian Ocean, those few brave seafarers are now 400 million people.
The filmmakers spent three years meeting the descendants of those seafarers, on their homelands to record a song in nature, songs to share across the ocean. Over 100 first nation artists from 16 Island nations contributed to this oceanic songline, reuniting this shared ancestry in the language and with the instruments of islands. Creating an indigenous grassroots story free of western narrative structures, a lineage into a time and knowing before the borders were drawn, and just perhaps revealing some timely wisdom through song.
In these cultures without the written word, it's storytelling, songs, that hold the power, passing on the cultural knowledge, like how to live on an island with limited resources. And the fact is we are losing these songs, when we need them the most.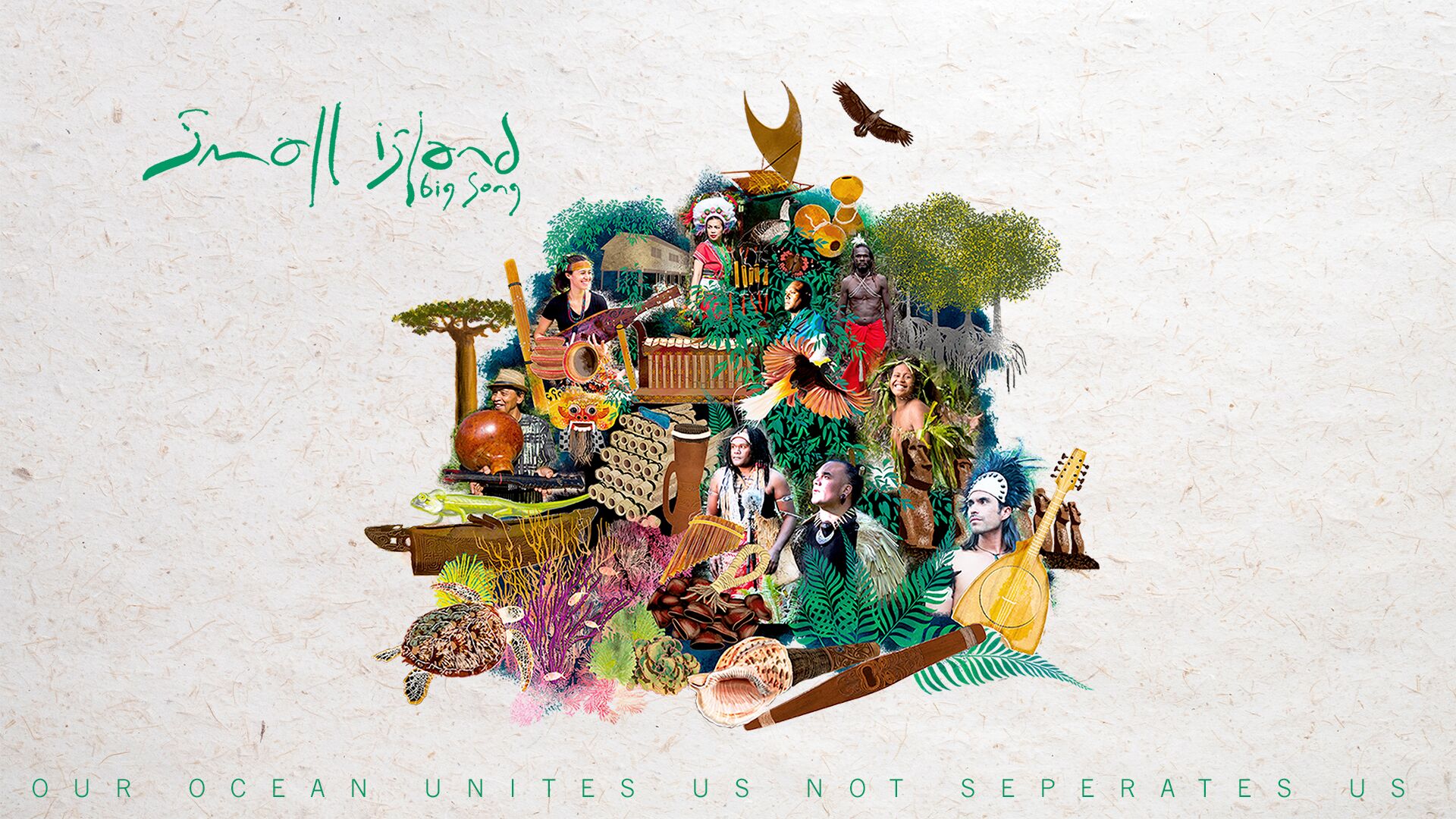 Musical Healers of the Land
Taiwan and New Zealand, the start and end points of Austronesian migration. Five thousand years later, our ancestors courageously sailed across the seas, two indigenous musicians, Seredau of Taiwan's Paiwan and Püoro Jérome of New Zealand Maori. Through traditional singing and instruments to express the wisdom of the seas, mountain and forests, exchange the influences of their island cultures, and the stories of exile, exclusion, and colonialism of their peoples.
Like other indigenous throughout history, both pass on knowledge to future generations with beautiful and powerful music. And despite the loss of culture. They rediscover themselves through music and nature. This is why both have become "musical healers" in the present.
Director I Producer Ado Kaliting Pacidal (ßöJiå. Eäfi)
Ado Kaliting Pacidal is an actress, television host, director, songwriter and singer. Known for works such as famous album Sun and Moon. She is also respectful of culture. Her elders gave her the name Ado', which echoes the saying from the myths of the Amis (Pangcah) people that "we sing to make the gods happy." This name predicted that someday Ado' would bring everyone joy with her singing.
Ado is proud of her Amis heritage and passionate about her tribal home. Feared about the extinction of her culture, she infuses her song with aboriginal cultrual. Throughout the years, she began her singing career from the pedestrian underpasses, pubs to performances all over the world. She puts all of her personality into her music and uses her melodic voice and deep passion to move her audience. Ado' has also expanded her talents to acting, making her big screen debut in Lekal Sumi and Cheng Yu-chieh's "Panay", which captures an authentic view of the lives and predicaments of Taiwan's indigenous communities when it comes to land rights. Her performance was widely praised, winning her a nomination for Best New Performer at the Golden Horse Awards in Taipei.
Di Balik Taman Eden
tells the story of the threat to the existence of the Kamoro Tribe Culture due to deforestation carried out by the company. In the film, it is shown the life scenes of the Kamoro tribe who are so simple and friendly with the forest and compare it to the industrial treatment of forests that seem insane. Some important figures of Mimika argue through testimony, including the Archbishop of Mimika, Women's Legislators and Indigenous People. Although it was a bit serious in the testimonial scenes, some parts of the film tried to criticize the situation in Mimika through satirical scenes.
Yonri Revolt
is a journalist, filmmaker, and co-founder of Yoikatra Community, based in Timika, Papua. In 2014, the community collaborated with some local NGO to develop the Halaman Papua program which focus on health issues and health services in Papua. The documentary film he once produced with Yoikatra are Tiga Mama Tiga Cinta (2015), Suara Mama Fin (2015), Di Balik Taman Eden (2015). In 2016, in collaboration with Febian Kakisina, their documentary film entitled Mama Amamapare (2016) won the Best Short Documentary Award at the Indonesian Film Festival and Best Film at the Eagle Awards, Documentary Competition. Since 2015, Yoikatra has developed many film projects and citizen journalism involving local citizenship, raising crucial issues in Papua, and developing public archiving and presentation program.
RONE
Sophy Lasuh is a filmmaker from Nagaland. Her focus is on ethnographic films and she works around the theme, "women as preservers of indigenous knowledge". She recently completed the second film to that theme, with Rone being the first. Currently, she is a PhD research scholar at Martin Luther Christian University, Shillong.

Filmography
The Story of a House (2015- Best Director, NEFilm Festival, Arunachal Pradesh)
Young Achievers Award (Filmmaking) 2015, Dalmiya Group
Rone – Official Selection at
1. Edinburgh Festival of Indian Films & Documentaries, UK (November 2017)
2. IAWRT (2017, New Delhi ) International Association of Women in Radio & Television
3. WIFF (2017, New Delhi) Woodpecker International Film Festival 2018
Marie's Dictionary
Throughout the United States, many Native American languages are struggling to survive. According to Unesco, more than 130 of these languages are currently at risk, with 74 languages considered "critically endangered." These languages preserve priceless cultural heritage, and some hold unexpected value—nuances in these languages convey unparalleled knowledge of the natural world. Many of these at-risk languages are found in my home state of California. Now for some, only a few fluent speakers remain.

This short documentary tells the story of Marie Wilcox, the last fluent speaker of the Wukchumni language, and the dictionary she has created. I met her through the Advocates for Indigenous California Language Survival, an organization that encourages the revival of languages like Wukchumni. Through training and mentorship, it has supported Ms. Wilcox's work for several years. Ms. Wilcox's tribe, the Wukchumni, is not recognized by the federal government. It is part of the broader Yokuts tribal group native to Central California. Before European contact, as many as 50,000 Yokuts lived in the region, but those numbers have steadily diminished. Today, it is estimated that fewer than 200 Wukchumni remain.
A Thousand Suns
A Thousand Suns tells the story of the Gamo Highlands of the African Rift Valley and the unique worldview held by the people of the region. This isolated area has remained remarkably intact both biologically and culturally. It is one of the most densely populated rural regions of Africa yet its people have been farming sustainably for 10,000 years. Shot in Ethiopia, New York and Kenya, the film explores the modern world's untenable sense of separation from and superiority over nature and how the interconnected worldview of the Gamo people is fundamental in achieving long-term sustainability, both in the region and beyond.
Counter Mapping
In this film, we meet Jim Enote, a traditional Zuni elder, farmer, and director of the A:shiwi A:wan Museum and Heritage Center in Zuni, New Mexico. Enote is working with Zuni artists to provide an alternative way to understand and create maps which offer an indigenous voice and perspective rooted in place. "Counter mapping" challenges the western notions of geography and the arbitrary borders imposed on the Zuni world. This perspective is not based on ownership and imposed names, but rather on memory, ceremony, song, and a deep relationship to the land.
Yukon Kings
Set in the remote Alaskan Yukon Delta, Yukon Kings follows Yup'ik fisherman Ray Waska as he teaches his grandkids how to fish during the summer salmon run. With environmental and cultural forces threatening their subsistence way of life, Ray holds onto the hope that his grandsons will one day pass on the traditional knowledge to their children.
THE BORNEO CASE
In The Borneo Case, documentary filmmakers Erik Pauser and Dylan Williams spend five years intimately following the trail of an unlikely group of activists whose aim is to investigate how profits from the illegal logging that has annihilated more than 90% of the Malaysian Borneo Rainforest, have been money laundered into property portfolios all around the world.
The group, made up of an exiled tribesman, a historian, an investigative journalist and a flamboyant DJ overcome death threats and intimidation in their efforts to unravel what has been dubbed "the Greatest Environmental Crime in History" (ex British Prime Minister Gordon Brown).
One of the weapons of the group is to start an illegal pirate radio station called Radio Free Sarawak. In a country where the government has complete control of the media, the radio station allows them for the first time to inform the people about what is really going on.
Peter John Jaban
the founder presenter of Radio Free Sarawak has been named by the NGO Reporters Without Borders as one of the world's "100 Information Heroes" to be celebrated for their work on this year's World Press Freedom Day, May 3rd.
The organisation, which campaigns for freedom of information, explains:
"Through their courageous work or activism, these "100 heroes" help to promote the freedom enshrined in article 19 of the Universal Declaration of Human Rights, the freedom to "to seek, receive and impart information and ideas through any media and regardless of frontiers." They put their ideals in the service of the common good. They serve as examples." [Press Release, April 29th]
Peter John first started broadcasting with the fledgling radio station back in October 2010. Radio Free Sarawak broadcasts out of London to avoid Malaysia's oppressive licensing laws, which only give air space to the government run broadcaster RTM and stations which promote the ruling party.
Papuan Voices Film Synopses
What Mama Kasmira Wants
DURATION: 06:25
PLACE: Keerom, Jayapura
DIRECTOR: Yuliana Langowuyo
A Papuan cocoa farmer from the Indonesia-Papua New Guinea border region had to leave her farm to work for a palm plantation when the village elders made a deal with a Rajawali Group company to sell her land. Every day Kasmira works hard under the boiling hot sun, clearing bushes for the plantation. However, she has great hopes for her three children.
What Mama Kasmira Wants
A Papuan cocoa farmer from the Indonesia-PNG border region had to leave her farm to work for a palm plantation when the village elders made a deal with a Rajawali Group company to sell her land. Every day Kasmira works hard under the boiling hot sun, clearing bushes for the plantation. However, she has great hopes for her three children. She now lives in the cash economy, working for money and buying food. The plantation employs many people and is part of the modern economy where large scale developments, like palm oil plantations, attract foreign investment and produce goods for export that earn foreign currency for Indonesia. This also results in revenue for the government which could be used to finance schools and health facilities which might improve peoples' living conditions.
Mama Kasmira's main goal is for the education of her children so that they can become good employees and earn money. One reason for that is so that her children will be able to look after her when she grows old. Another interesting aspect of this video is that it shows how palm oil is produced. Palm oil is being promoted as a ecologically viable alternative to fossil fuels such as petrol in trying to reduce carbon emissions which cause climate change. Yet to produce palm oil means destroying the rainforest and turning traditional village people into agricultural labourers. This is a dilemma that is faced by many people in the developing world, here told through the story of Mama Kasmira. Issues: Land rights, gender, poverty, palm oil, education, welfare in old age in Papua.
Talking points
1 What impact is the development of oil palm plantations having on the lives of Papuans?
2 Do you think that the benefits of oil palm plantations in terms of jobs, government revenue and a non-fossil fuel source of energy is worth the destruction of the rainforest and traditional ways of life?
3 Would you prefer to live in the cash economy and have access to health and education services or live a traditional subsistence life in a Papuan village? Why?
Honai
DURATION: 05:52
PLACE: Wamena, Papua
DIRECTOR: Niko Asso
The traditional Honai house is the centre of community life in the central highlands. It is in the Honai that all cultural rituals take place, from clan gatherings to peace making. As time has progressed, the people of Wamena have lived in a new type of abode, which they call Rumah Sehat (healthy houses). Although the young generation have settled in these houses, they still believe that Honai resembles the centre of their ethnic groups, which need preservation.
Nagosa
DURATION:
PLACE: Wamena, Jayawijaya Regency, Papua
DIRECTOR: Kristian G. Tigor Kogoya
Nagosa (Mama) Salonika Hisage's family lives in a village called Minimo, 4 kilometers away from Wamena, the capital town of the Jayawijaya Regency of Indonesia. She is married to Kornelis Mulait and together they raised five children, three boys, and two girls.
Each morning Nagosa Salonika wakes up at 3 AM to prepare breakfast for her children. Around 4.30 AM she goes to the city and arrives at around 6 AM to a designated area where she works as a street sweeper.
The trash she gathered, are then put into a plastic bag which she throws to the trash to be collected later by a garbage truck. After work, Nagosa Salonika heads towards home to find firewood in the forest. She then collects branches and firewoods and cut them into small pieces to sell them in nearby markets. If she gets enough money from selling firewoods she would be able to get food from the store before returning home.
Running this routine, Nagosa Salonika managed to save enough money to pay for her husband's undergraduate tuition. Unfortunately, her husband remains unemployed until today. To provide for his family her husband finds fish in the Baliem river which he can sell to the market. Both of them also work together periodically in a farmland on the top of the mountain.
Generasi Kayu Lapuk / The Rotten Wood Generation
DURATION: 15:56
PLACE: Wamena / Baliem Valley
DIRECTOR: Rizal Lani
The vast forest of Papua are disappearing, including within the Lorentz National Park, the largest conservation area in SE Asia, which has been recognized as a natural World Heritage Site by UNESCO due to its outstanding landscape and biological and cultural diversity. Before the Trans-Papua highway was built through this area, this area remained a pristine wilderness covering over 2.5 million hectares where many valuable trees, exotic birds and animals lived undisturbed. But since the highway was built the trees have been rapidly disappearing. Illegal loggers work openly along the road every day, felling trees and cutting them into planks, which are then trucked down the mountain for sale in the Potikelek market in Wamena Town. The road to Wamena passes through a security post, where each truck driver is required to hand over several planks as a form of informal tax.
Documenting The Second Papuan Film Festival (FFP II) 2018
DURATION:
PLACE: Jayapura, Papua
DIRECTOR: Yerry Nikholas & Nunafra Farhanggi
EDITOR: Bonifasius Asvian L
This video documentation by EngageMedia features some of the visual stories during the Second Papuan Film Festival (FFP II), which was held from 7 to 9 August 2018 in Jayapura. It captures notable moments of different activities and valuable comments from participants and members of the Papuan Voices community.
On 7 August 2018, the Deputy Mayor of Jayapura (Wakil Walikota Jayapura) Rustam Saru officially inaugurated the second Papuan Independent Film Festival. Out of 19 films produced by activists across Papua that were submitted for the competition, 10 best films, which were selected by a 4-member jury, were screened at the festival.